What Is PLR Content?
The term PLR is actually an abbreviation that stands for Private Label Rights. It is a special type of Content Licensing Rights that allows the buyer to use, modify, and distribute the content within the terms of the PLR agreement. This agreement is set by the creator of the content, and usually includes the ability to rebrand, edit, add your name, and make other specified changes to the product. Usually PLR even gives you the ability to include other rights like MRR rights or RR rights when you resell the content.
Here is how Wikipedia describes it:
Private Label Rights (PLR): …is a concept used in Internet marketing and derived from private labeling. It's a license where the author sells most or all of the intellectual property rights to their work.

What you're allowed to do with PLR content after you buy it can vary greatly because whoever creates it ultimately decides how the content can be used. So, it's usually not as simple as just buying the content and then using it however you want to because the content creator usually has certain restrictions.
That is NOT a bad thing though! In fact, you probably don't want to buy any PLR that doesn't have some sort of "restrictions".
Here's why:
You aren't the only one buying the PLR rights to that content! You want there to be certain limitations on what other people can do with it so that they don't ruin it for everyone. For instance, there may limitations on how much the product can be sold for, where it can be sold, or how you're allowed to use it.
For example, let's say you buy a "Biz in a Box" because you intend on slapping your name on it as the author, and then selling it for $27 to your subscribers. Well, if your subscribers trust you (and hopefully they do) then you don't want them going to the search engine to find out more about the product only to find someone else selling "your" product for $1. So, hopefully you see why having a pricing restriction on your PLR product can be a good thing.
Here's another example. Let's say you buy a video training course with PLR rights and you intend to sell it as a $97 product. Well, you don't want someone posting those same videos to a blog post on someone else's website that anyone can get for FREE! How do you think that would impact your conversions? In these types of situations restrictions are a huge benefit.
Usually the sales page for a product will clearly state all of the rights, limitations, etc., that come with the product when you buy it. Here is an example: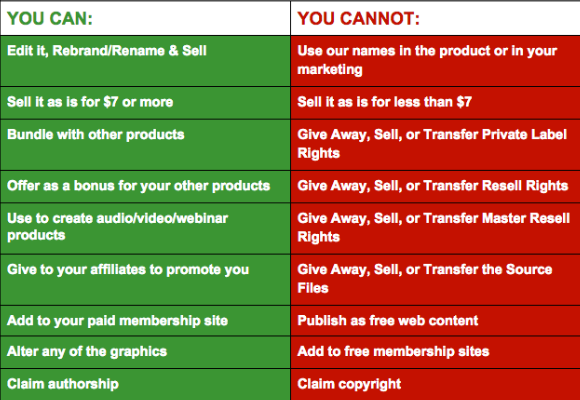 Always read the PLR agreement that comes with your product carefully before you do anything with it. Whenever you're in doubt about exactly what you can or cannot do, you should always contact the content creator directly to ask them. Don't be shy 😉
To learn about the other kinds of content licensing rights like MRR and RR click here.